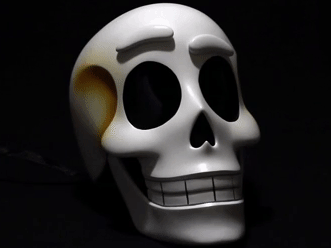 Papyrus - Undertale
Everything is printed in black PETG filament. The print is pinned and glued together, filled with epoxy, and sanded smooth, The eyes are heat formed in PETG and tinted dark.
A Kaiborg first, papyrus features animatronic eyebrows, as well as OLED eyes. Each expression is controlled by small momentary switches located at each fingertip of the right glove. Powered by an Arduino Teensy 3.2 and an Adafruit Pro Trinket, the electronics are housed in a discrete enclosed backpack.
The jaw is fully controlled by the wearer, for added expression. It features a 3D printed, magnetically held jaw extension, which can be removed for easy wear and removal. A flat bungee spring system was fabricated to meet the tight tolerences within the helmet.