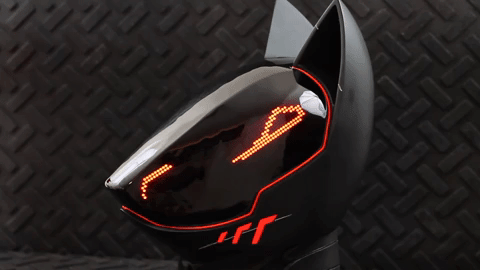 Cyber Anubis
Cyber Anubis was the first time a concept has been 3D modeled, and entirely 3D printer, from the very beginning.
Everything is printed in black PETG filament. The visor is vacuum formed in PETG and tinted dark, the buck was created from the main 3D model and also printed. An inner visor, housing the LED matrices, was printed as well from a scaled down version of the main visor.
A new concept utilized was animating a "glitch" design into a "damaged" eye. The damage being a slash going across both the visor and the helmet itself. Slash marks were also featured across the left ear, left cheek, and right jaw.
Another Kaiborg first, the neck is entirely made of EVA foam to replicate armor. The neck armor utilizes both snaps and magnets along it's attachment point, as well as a seam down each side for ease of wearing and ease of donning and removal.